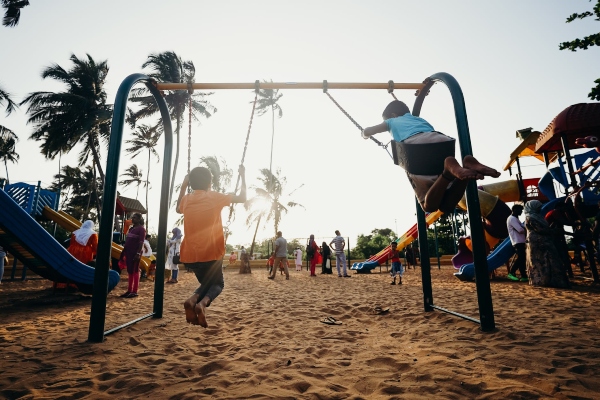 A playground is much more than an area where you can let your kids play. Outdoor play structures are a physical, cognitive, and social experience for your little ones - one that represents an important stepping stone in their development. That is why it is important to create a space that develops with them, provides fun for everyone, encourages physical exercise, and inspires imagination. Luckily, the holiday season is around the corner - and what better present for your kids is there than an addition to their outdoor play structure?!
In this guide by Kids Gotta Play, you can find some of the best play structure accessories to surprise your little ones!
Slides
The key to a successful outdoor play structure is variety! Adding a variety of small spaces, surface and texture changes, levels, seats, and overhead elements is key to letting your kids' imagination run free! And, slides are by far the most popular addition you could invest in! They are great for chases and they connect multiple levels of the play structure, which creates a great flow among the various elements. Plus, they are safe and enjoyable for kids of all ages.
Trampolines
Trampolines are one of the all-time favorite gifts for kids, no matter their age! These structures are safe, make for great physical exercise, and play a key role in your little ones' motor skills development. While you might not be able to incorporate a trampoline into your existing outdoor play structure, that makes for an exclusive addition - your kid will be the envy of the whole neighborhood!
Swings
Swings are a must-have in your kids' outdoor play area! They offer a lot of fun and play a crucial role in helping the development of motor skills and muscle strength. But, more importantly, they can make anyone feel like they can fly! Swing Sets are one of these play structure add-ons that you can add to any play area, no matter how small or simple. And, they provide for a moment of relaxation and rest in between chases!
Climbing Structures
If you are looking to add an element to your kids' outdoor play structure that makes the whole play area more adventurous, look no further than climbing structures. Climbing and bouldering activities offer anyone endless physical and mental benefits, not just kids. However, these sports come with a level of risk that you would want to avoid for your little ones.
Kids-safe climbing structures allow your little ones to put their climbing skills to the test, develop muscle strength, and improve their hand-eye coordination - risk-free!
Decks and Benches
Outdoor play structures are great for physical exercise and socialization. However, with all that running, climbing, sliding, and jumping, chances are that your little ones will need a moment of rest! Adding deck and benches create a space to rest and catch their breath before their next adventure. So, they can stay outdoors for longer and avoid sitting in front of the TV to rest instead!
Basketball Hoops
Teamwork is important throughout all stages of life. However, not that kids are increasingly captivated by video games, tablets, and digital entertainment, it is always more difficult to encourage them to take on a team sport. Adding a basketball hoop to your outdoor play area can be a great way for them to try a new sport and play in teams!
Don't Forget To Create a Fort!
Overhead elements, roofs, and decks create forts. And, there is nothing like a fort to feel like a legendary knight! Make sure to add these elements to complete your kids' outdoor play area and provide them with a place to let their imagination run wild!
Get Everything You Need for Your Home Play Structure with Kids Gotta Play
Having a quality play structure is a huge joy for kids. Make the most of your home play structure by getting the addons you need to make it a big success! Kids Gotta Play is your resource for play structures of all kinds. Give our team a call today to get the right one for your kids today!