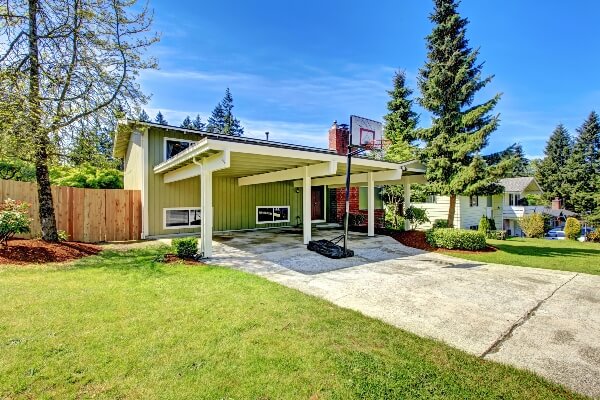 Summer is a great time for fun in the sun. Get your kids out of the house and having fun with a basketball backboard at your home. Shooting hoops at home is a great way for you and your family (plus their friends) to get some exercise and challenge each other. But it can be tough to pick out a quality basketball system.
Getting started with your search for the right basketball backboard, rim, and net can be overwhelming. Keep reading to learn more about how to choose the right basketball system for your home.
Where Will it Go?
The first step is to decide where you want to put your basketball system. Make sure to choose a place with a lot of room. Flat, paved areas are typically the best. Many people choose to use the street in front of their homes, a paved area on their yard, or their driveway. For the last one, make sure your driveway doesn't slope, or you will have an extra challenge while playing! No matter where you put it, make sure to keep safety in mind.
Consider the Different Types of Basketball Mounts
Now that you know where you will put it, figure out what type of mount you will use. Each type has its unique benefits, consider what would work best for your family.
In-Ground: These are the most stable type of basketball mounting. A contractor will cement these stands into the ground. This setup is great if you know you will want it for years to come. Most in-ground basketball backboards will have an adjustable height scale to suit the players' needs.
Mounted: Mounted backboards and rims attach to a structure you already have. Some places for you to consider are an exterior wall or maybe your garage. This type is good for being stable with fewer installation steps. However, you won't be able to adjust the height.
Portable: Bring the game where you need it to be! Stand-alone basketball mounts are great to move around to a different part of your property. You can also take them with you if you plan on moving. The base can have different sizes and will need to be weighed down. Most of these also offer the opportunity to change the height.
Choosing the Right Backboard
Your last big step is choosing the right backboard for your quality basketball system. Different materials will impact how the game gets played.
Polycarbonate: This type of backboard is durable and made for the outdoors. Weather will least affect this type of backboard.
Acrylic: These have the look of a glass backboard, but are less expensive and much more lightweight. The lightweight nature of this material means you won't need to have as much support for its base. The bounce of this will be similar to the polycarbonate material.
Glass: This is the type of backboard that the basketball pros use to play. Tempered glass is the type of material you will find on most basketball gyms around the world.
Getting the Perfect Basketball System for Your Home
If you follow the options above, you should have a good starting place for your home basketball system. Your kids can have all the fun of a gym right at home. Kids Gotta Play is all about creating fun, active play for kids and families to enjoy. Our Goalsetter and Gorilla G basketball systems are sure to give your family a ton of fun for years to come.