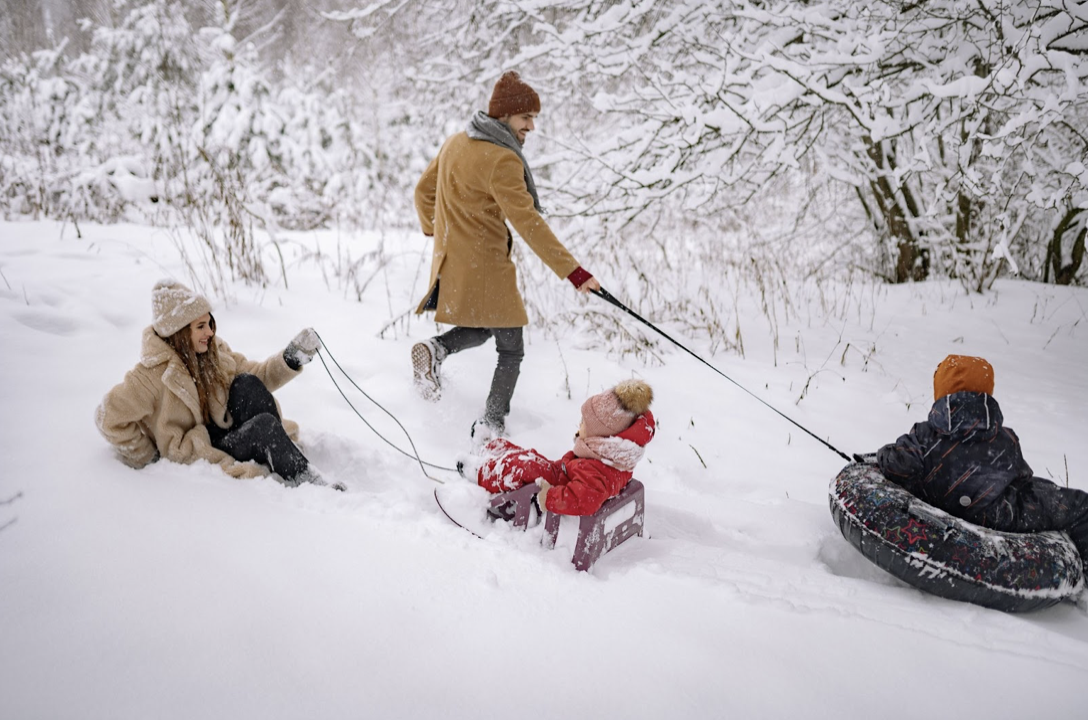 As close as we are to spring, the February temps in Michigan are still frosty. When it's cold like this, leaving the warmth of the house to go play outdoors seems a lot more like a chore than fun!
However, during the long, dark winter months, it's still so important for your little ones to be outside, stay fit, fill up on Vitamin D, and socialize with friends and family. After all, cold-weather outdoor play can have many benefits, from keeping your little ones happy to boosting their immune system!
Grab your coats, hats, and boots, and prepare to spend some amazing time outdoors with these fun activities by Kids Gotta Play.
Involve Your Kids in a Snowball Fight
If recent snowfall has caused your whole family to spend more time indoors than you would have wished, it's time to make the most of the winter wonderland in your backyard.
What's better than a snowball fight to enjoy some special time together and burn some bottled-up energy? If your kids are too young to handle an animated snowball fight, opt for a more controlled—but just as fun—snowball target practice.
Build a Snowman in Your Backyard
Building a snowman can be an excellent way to let your kids' imagination run wild. And, since they will be experimenting with different elements, sizes, and shapes, this activity can actually help them refine their design, building, and STEM skills.
So, if you've been looking for a fun but educational outdoor activity for your kids, gather carrots, buttons, old hats, and scarves, and launch a snowman contest!
Go for a Family Walk or Hike
Family walks and hikes are a great kids' play idea that can immerse your little ones in sensory learning and help them connect with their parents and siblings. For winter walks, it's especially important to know the trail, be prepared with water and snacks, and keep an eye on weather changes. However, with just a pinch of imagination, even the local park or your own neighborhood will make for the perfect adventure!
Go Sledding!
If your home is surrounded by hills and slopes, try not to see the features of your backyard's landscape as an obstacle standing between your family and outdoor play. Instead, during the winter months, hills become the perfect playground for sledding and sliding on the frozen ground.
Don't worry about investing in professional equipment if you don't have it. Just start sledding with what you have available, like flat containers, garbage bags, or even inflatable toys! Just make sure to judge the slope right and do a test run before sledding with the kiddos.
Gather Around a Bonfire
If you have plenty of outdoor space to use in your backyard, a bonfire is a great way to get the kids excited about the wonders of the night sky. For this, all you need is a safe fire pit, plenty of s'mores supplies, and stories to share with your little ones! Just make sure to never leave the fire unattended and keep an eye on kids at all times.
Explore Winter Nature
Spending time in a natural environment is essential for your little ones to connect with nature, develop motor skills, and keep fit. If you live in an area surrounded by nature, consider spending time identifying the different species, from evergreen trees and lichens to eagles and geese. You don't have to be an expert—just making observations is a great way to spend time together!
Winter-Proof Your Outdoor Playground
If you have an outdoor playground in your garden or yard, there's no better way to spend the winter months! Make sure to prep your trampoline for the winter and add the best accessories for winter fun so your little ones can enjoy every sunny day sliding, climbing, tucking, and running across the playground all year round!
Start Your Own Winter Traditions with a Custom Play Set
From spending time together every week in your backyard playground to enjoying weekly walks, or celebrating the winter solstice, there are plenty of traditions that you can enjoy with your entire family for years to come. But if you're looking for an all-season playscape perfectly suited for your new traditions, call in the experienced playground experts at Kids Gotta Play. We can't wait to help you make your backyard a winter wonderland for all!
Speak to a Pro: (800) 955-7529