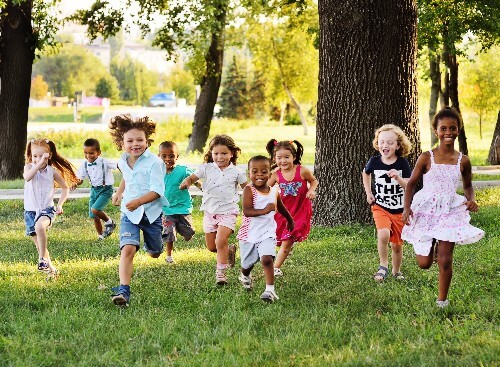 Playtime is no joke. When kids are active, they win! Kids today will grow up in a digital age that increasingly gives them options to look at screens instead of actively playing outdoors. Obesity is a growing concern, a problem that can have its beginnings in childhood habits. Active play offers children a great chance to develop their minds, social skills, adaptive thinking, and more.
In this article, we'll go over the importance of physical play and how it can help children develop in the areas of academics, cognition, and overall health.
Importance of Play: Cognitive and Academic Benefits
Physical play helps kids' brains develop and helps them perform better at school. Let's look at two studies and the benefits they uncovered.
The Children's Museum of Minnesota combines exploration and play. Their study titled The Power of Play: A Research Summary on Play and Learning has some interesting findings, including:
Practice with Self-Regulation - Children playing physically have a lot going on in their mind. When the game ends, they must settle themselves down. Practicing going between these extremes helps them regulate their arousal in all areas of their lives.
Executive Function Improvement - Executive function skills are those that help people perform highly specified mental processes. Some of these processes include focusing attention, remembering instructions, multitasking, and planning. During sports or physical games, children must focus on instructions or rules then control their actions to achieve a goal.
Greater Attention a School - Physical play continues to support greater focus in academic settings. Students who participate in daily activities have more attention to devote to standardized tests and general studies.
Importance of Play: Health Benefits
Weight is a serious issue for many people nowadays. With obesity on the rise, the World Health Organization has some stark data about kids' health. The rate of being obese or overweight for children has risen from 4% in 1975 to 18% in 2016. The WHO urges children to get at least 60 minutes of exercise daily.
The following are some health benefits of physical play:
Aerobic endurance
Coordination
Growth stimulation of major organs
Increase bone mineral content
Muscle growth
Strength
Discover the Showroom Designed for Physical Play
Play is as fun as it is good for your kids. Physical play will help your children develop healthy habits while improving their cognition and academic performance. Check out the showroom at Kids Gotta Play for open play time or an event like a birthday party. Our showrooms provide a fun place for kids to explore, relax, be themselves, and learn all at the same time.