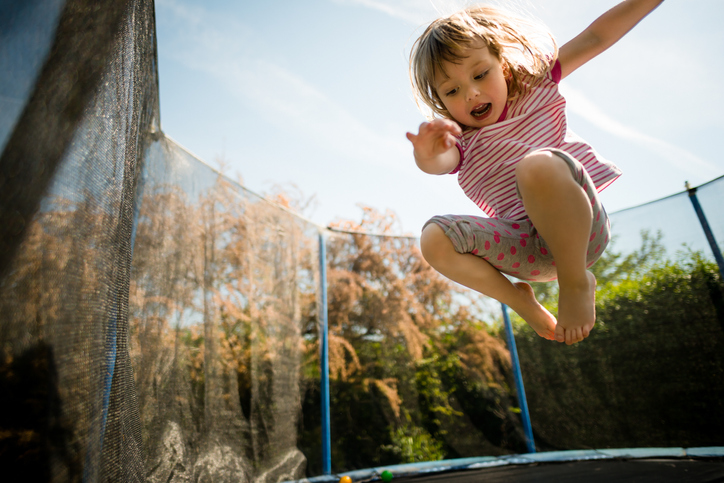 Trampolines are fun, but their benefits go even further for kids with special needs.
Trampolines are an excellent, fun activity that benefits children with special needs, such as those with autism. This fact is backed by credible research information and opinions of parents with autistic children whose children have benefitted from the use of trampolines. For starters, the general benefits of trampolines for all indulgers include:
Getting a chance to socialize and form genuine bonds
Relieving stress buildup from daily routines
Incorporating the feeling of freedom to your inner self
Providing relaxation and enjoyment
Below are some more specific points on why trampolines may be the best outdoor exercise for your autistic children:
1. It Helps Your Autistic Child Deal with Their Anxiety
Due to their unique needs, autistic children find it hard to keep up with the demands of their daily routines. This condition quickly builds up their social anxiety. Trampolines are a great outdoor activity for your kids' health through exercise. The kids can play on trampolines after school or in between their daily routines, providing a relief of energy that brings them greater relaxation.
2. Trampolines Provide a Great Opportunity for Your Autistic Child to Interact Easily with Other Children
While your kid might find it a little bit hard to interact with other children in their regular activities, the outdoor exercise for trampolines offers a perfect chance for your kid to make new friends.
This is because of its relaxed ambiance. It provides your kid with the ideal opportunity to make new friends and develop new ways of communicating and getting along with them. Their friends may also get the chance to learn how to interact with your autistic kids while they enjoy the bliss and fun of playing on the trampoline.
3. Trampolines Aid in Sensory Development in Your Autistic Child
Due to the relaxing nature of the trampoline and the need for movement coordination between the jumps, the playground equipment offers our autistic child the chance to learn muscle and joint coordination. These lessons can happen subconsciously or deliberately. You might notice some improved sensory coordination after your kid starts playing using the trampoline. However, always ensure that your kids are supervised during their playtime to avoid accidents.
4. Trampolines Encourage the Production of Important Mood Hormones
Trampolines stimulate the production of vital mood hormones in your autistic child. These hormones include a perfect blend of serotonin, dopamine, endorphins, and adrenaline. These hormones play a pivotal role in determining a person's mood. Hormones relieve stress and create a sense of happiness, belonging, and purpose. Trampolines can lift your autistic child's mood and consequently inspire them to become great achievers in and out of their classrooms.
Get a Trampoline for Your Autistic Child Today!
Exercise is an essential aspect of kids' health, and trampolines serve as an excellent option, especially for autistic children. It improves physical and mental health for an overall improved social outcome in your child. Give the trampoline a try to take your autistic child on a new adventure that will help them live their best, happiest life with Kids Gotta Play. Our trampoline and play systems are great home experiences for children.
Give our team a call today to discuss your needs and find the right trampoline for your children