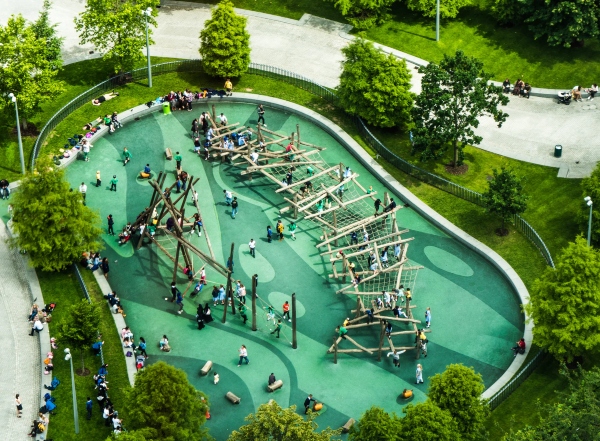 These days, more and more children are spending time indoors with electronic entertainment. In fact, it's estimated that children get roughly 7 hours and 38 minutes of screen time per day. To convince them to play outside, we need to start looking at quality playground systems that encourage kids to have fun outdoors instead of just looking at electronics.
So to help you design a playground that encourages kids to play outside, here are a couple of suggestions.
Add a Variety of Options
It's easy for kids to get bored in playgrounds because there is often a lack of things to do. By having a large variety of equipment, you achieve several things:
Kids don't have to wait to play on something because there are other activities to do. This availability can be a problem if there are a lot of kids that want to play in the playground.
Kids can try new things every day and explore different types of equipment. Novelty in experiences offers more chances to engage children in meaningful activities.
Kids can challenge themselves with physically demanding apparatus, but they can also do something more relaxing and laid-back if they're not feeling up for it.
By adding options, it becomes much more enjoyable for your children.
The Surfaces Need to be Safe and Properly Maintained
Perhaps the core of every playground system is the flooring that it's built on. You need to make sure that the surface is safe and comfortable to play on, but you also need to be maintained correctly. This means fixing any holes or cracks caused by excessive play and choosing a durable material for the playground to be made from in the first place.
Playground surfacing is often overlooked, but it's one of the most important aspects of designing a quality playground system. This should be one of the first things you think about when designing a playground system for a school.
Places to Sit and Relax
Kids will eventually want to sit down and relax after playing. Make sure you build a rest and shelter area to have a chance to recharge between play sessions. You don't need to get too creative with this; just a few simple benches and an overhead roof are usually enough.
However, you could also include some more relaxing things to do in the shelter area. For instance, adding a chalkboard and giving kids some writing and drawing equipment can be a fun way for them to unwind and try something new. Playgrounds don't have to focus exclusively on physical challenges; you can also add creative outlets or even puzzle-like challenges.
Get the Right Play System for Your Students with Kids Gotta Play
A quality play system can help the students at your school unwind and shed their extra energy while having fun with their peers. Playing during recess or after school can help kids to be more focused while in the classroom. Make sure to get a quality playground system, like those from Kids Gotta Play, for your students. Give our team a call today to find the right option for your school.