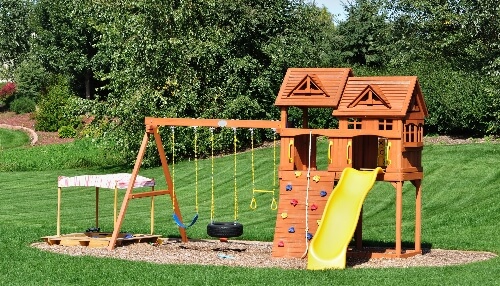 Free play and outside activities are important for your children's development. There are many psychological and developmental positive effects of being able to play and freely choose one's play.
Right now, outside playtime may be tough to provide for your kids. Public parks are great places for children to play on the structures, enjoy with their friends, and create imaginative adventures. However, during the pandemic, such public spaces aren't always safe for you or children.
A play set at home is a great, socially distant solution to encourage your children to play outside and give them a fun time in a safe environment. To make sure you get the right situation for your kids, ensure the material you put underneath the structure fits. Keep reading to learn about the materials you can choose for your children's playground.
1. Pea Gravel
One of the more affordable options for you is pea gravel. This material gets used a lot in parking areas and playgrounds. The natural look of the material helps blend it in a while still helping to slow or even stop the growth of weeds. Any falls from the playset will be softer with pea gravel underneath. Don't worry about on-going maintenance with pea gravel. Pea gravel can hide hazards, including broken glass, so just be sure not to take any glassware onto the structure.
2. Rubber Mulch
Rubber flecks that have been shredded provide a soft cushion for when your kids inevitably fall or jump off the playground. This material also acts as a barrier to weeds. Over time, rubber mulch can get dirty. Rubber mulch also is easily knocked out of where it should be and can be tracked around the yard and house on your kids' shoes. Rubber Mulch is also nice to the Earth by being made from mostly recycled materials.
3. Natural Grass
Many homeowners choose natural grass as the material they use under their children's playground set. This look blends easily with the rest of the backyard. Making everything fit together seamlessly. On the easy side, natural grass is an amazing option because you typically won't need to change anything. However, maintaining the area will be difficult due to trimming the grass. Weeds, pests, mold, and more can also grow around your playset with natural grass.
4. Artificial Grass
Natural grass has its uses, but synthetic grass may be the solution you need. Turf will not need to be mowed or weeded, while still keeping the look of natural grass. Artificial grass can also be softer and offer a nice cushion for bad landings. This option is more of an investment, but you won't need to do much maintenance over the years - it is mostly a "set it and forget it" situation. You also won't have to worry about your kids tracking anything inside, because there won't be anything to track inside!
Finding the Best Playground Set for Your Home
A play structure in your backyard may be the solution to your need for safety, and your kids need to have fun playing outside. There are just as many options for playsets as there are children. Here at Kids Gotta Play, we believe in the power of play for people of all ages. We have a selection of all sorts of play structures, so you can find the right one for your home and your kids.