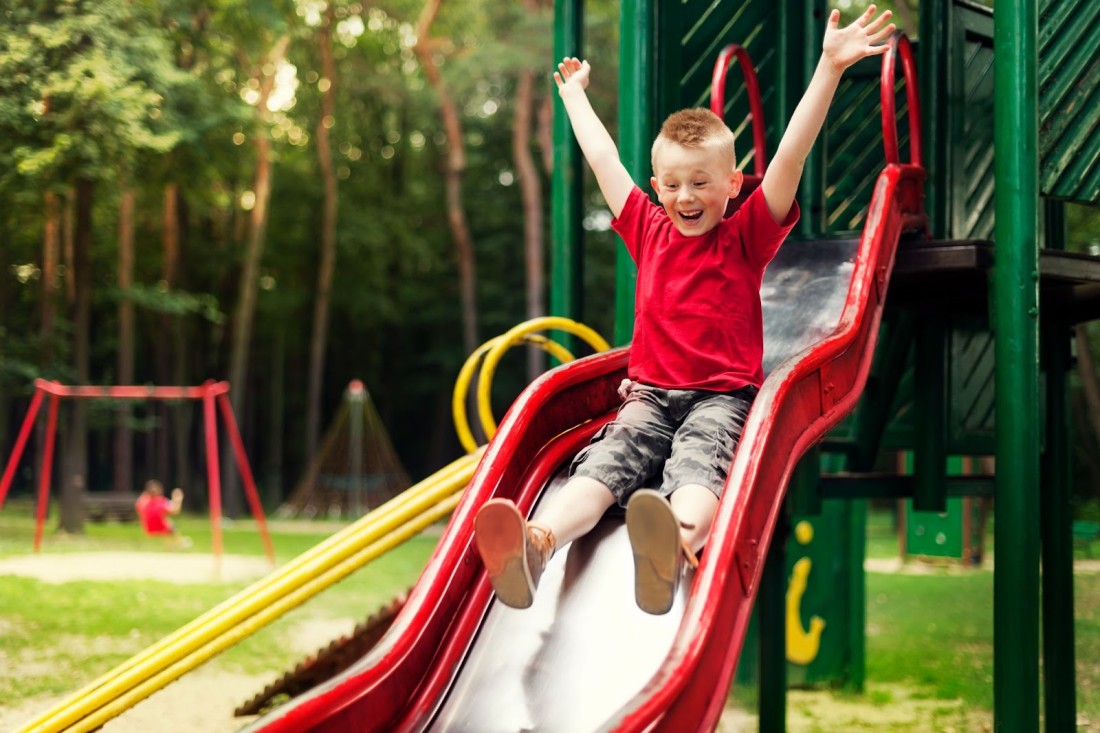 Playtime is more than just fun for kids; it's also essential to their health and well-being. April 7th is World Health Day, and we're celebrating by discussing the benefits of active playtime for your child's health.
An active lifestyle means a child is exposed to physical activity most days or every day. Physical activity is essential for health and happiness—preventing obesity, boosting immune support, improving positive attitudes, and so much more.
Physical activity isn't just limited to running and playing sports; it also includes climbing trees, jumping on the trampoline, playing on a playground, and taking your dog for a walk.
This blog will cover why physical activity is so important, ways to incorporate physical activity into playtime, and how the equipment provided by Kids Gotta Play can help you do this.
Physical Activity is Essential to Healthy Growth & Development
In the United States, child obesity has tripled since 1960, making it one of the most concerning health challenges in the modern era. It's clear to see that kids need an active lifestyle full of play to stay healthy. Physical activity not only allows children to remain at a healthy weight but is also essential to build and maintain strong muscles, bones, and joints.
An active lifestyle also boosts the immune system and prevents or delays chronic diseases.
Staying active helps control blood pressure, blood sugar levels, and cholesterol. Don't forget to pair an active lifestyle with a healthy diet to ensure that you're prioritizing your child's health.

Active Playtime Builds & Strengthens Friendships
Active playtime helps build children's emotional intelligence and social skills, even with no adult input. Playtime allows kids to think creatively and interact socially, providing an outlet to make long-lasting friendships. Through creative play, kids can work together to create their own rules and practice problem-solving techniques.
Sports teams teach cooperation, sharing, and empathy among players. Participating in a team sport can be an excellent outlet for physical activity and also create tight-knit bonds. By signing your child up for baseball, basketball, or football tryouts, you can incorporate daily physical exercise into their life and introduce them to their new best friends.

Active Playtime is Brain Power
Research shows that regularly scheduled physical activity can positively impact a child's mental well-being and cognitive development, not to mention assist in building motor skills and coordination.. Active play also enhances focus and concentration, resulting in better school performance and positive behavioral attitudes.

Physical Activity Has Emotional Benefits
Physical activity can also have profound emotional benefits. Studies have shown that regular physical activity can help improve a child's self-esteem and mood and reduce feelings of stress and anxiety. An active lifestyle can help children to develop a strong sense of self, cope better with struggles, and even increase their sense of purpose in life.

Children Who Exercise Are More Likely to Stay Active As Adults
Research shows that having an active lifestyle in childhood increases the chances of staying active as adults. Children who exercise are more likely to continue an active lifestyle throughout their life, even when they reach adulthood. Staying active is essential for maintaining balance in one's life, and it might be harder to gain an active lifestyle as your child ages. That's why it is so crucial for parents to encourage their children to engage in physical activities and lead an active lifestyle from an early age.

Invest in a Playset For Your Child's Health
Active play is essential to a child's overall health and well-being. It helps build physical strength, motor skills, and coordination. It also encourages children to explore their environment and be creative in their play.
Playground equipment can help facilitate active play, allowing children to engage in physical activities such as running, jumping, climbing, and swinging. This type of active play can help to improve a child's physical health by increasing their muscle strength and cardiovascular endurance. It can also help promote a healthy lifestyle by encouraging children to be more active daily.
Make Playtime a Priority With Kids Gotta Play
At Kids Gotta Play, we are dedicated to helping children lead healthier and more active lifestyles. We provide a range of playground equipment that encourages physical activity and active play. We design our equipment to promote child health and well-being while providing hours of fun for children. Monkey bars, stairs, swings, and other playground equipment are all vessels for physical exercise.
Through our products, we strive to help create an environment where children can learn, grow, and develop through active play. Contact us today for more information about our playground equipment and how it can help your child lead an active lifestyle.
To learn more about installing a playset and promoting a healthy lifestyle for your children, call us today at (800) 955-PLAY.