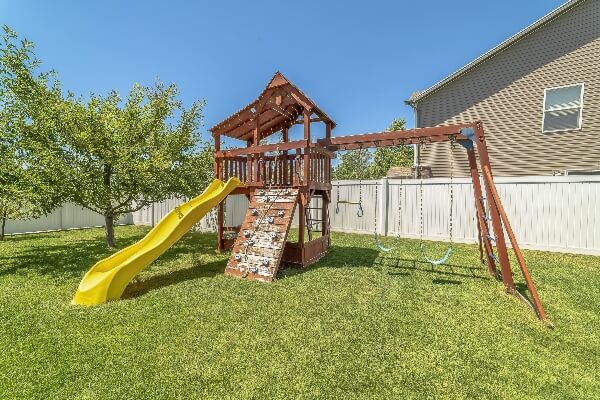 When you find the right gift for a family member, you can create a memory.
Gifts aren't just things being handed off, but can be experiences that you create. A simple gesture now can stay with someone when they wear some clothes or use something you got for them. It can be tough to choose the right experience you want to pass along. Especially given this year and the social distancing guidelines, home play equipment will be more useful as we move into 2021.
This article is all about why trampolines, swing sets, and other play equipment will make a great gift for this year's holiday season.
1. Play Sets Have Many Health Benefits
Not only are play sets a fun outlet for kids, these structures also support their overall health. There are always reasons to stay inside these days with the rise of screens. Play sets give kids a positive reason to go outside, be active, and support their physical and mental health. According to research on developmental health, regular exercise supports your children's muscular and bone growth and can lower their chance to develop chronic health issues. Kids develop patience, motor skills, and even hand-eye coordination while outside on a playground. And let's not forget about the mood boost that exercise and being outside supply!
2. Play Sets Will Always be in Style
Think of a toy you had growing up. How long did it last? One year? One month? How about for your kids?
Toys come and go, but a play set built to your kid's needs will always give them a chance to play or just hang out outside. Fads can come and go, but if your kids develop a positive attitude about their new play set, they will keep enjoying it for years. As they get older, they will find different ways to appreciate it. Then if your family grows with more children, they too will be able to enjoy the play set without it feeling like a hand-me-down toy.
3. Play Sets Help Kids Learn to Get Along
Sharing and working together are important social skills for a person to learn. When kids share their play set with their peers or siblings, they learn the value of giving and teamwork. Games on a playground will stress the need for kids to cooperate, coordinate their play, and patiently work together. They will need to take turns on some parts of the play set teaching patience and delayed gratification - things many adults struggle with in their lives!
4. Play Sets Help Parents as Well
Having a play set in your backyard is a great way to be the center of the action. You won't need to drive or walk to a park for your kids to have some outside play time. The convenience of a backyard play set means you can stay inside while you watch your kids play through the window. Take this time to get work done, listen to a podcast, or take care of some chores. You can also use your play set as a meeting place for neighbors' or friends' kids to come, have a good time, be active, and get to know each other better.
Consider a Play Set this Holiday Season that Will Last for Years to Come
There are many benefits of toys, games, exercise, and the outdoors - that all come together for your kids with an outdoor playground. These structures will not only be great for the next summer, but for years to come. Consider the many play set options at Kids Gotta Play. We believe strongly in active play for kids and adults, so we try to find as many choices as possible leaving no one out! Browse our selection or give us a call to chat through your needs.