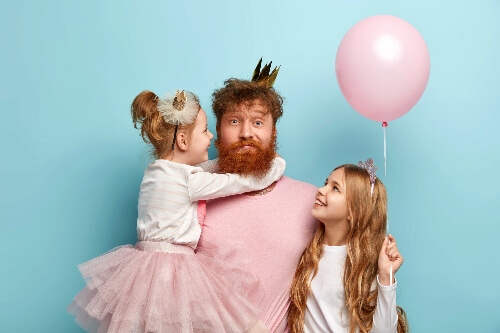 Remember when you were growing up going to the party for a kid who had a birthday during the spring or summer? That timing was perfect for an outdoor party playing around and getting to run free.
Here at Kids Gotta Play, we have extended those birthday play parties for the entire year. Our indoor playscape birthday party zone gives kids a chance to have the most fun they can, and parents have the peace of mind that they can see them and know they are safe! Keep reading for our guide to a birthday party for your kid at our playscape.
Plan the Details
The more planning you do, the fewer hiccups you will have on the big day. Consider when everyone should arrive. Make sure you and any of your helpers (see the next section) get there early to set up the room. Plan to contact parents at least a month ahead of time to coordinate schedules.
Don't forget about the food! Whether you will make food, go potluck style with everyone bringing a dish, or opt for a pizza party, plan out what food you will offer, when it will arrive, and what everyone will eat or drink with (plates, napkins, utensils, cups, pop, and more).
Have a Team of Adults
A day of fun for the kids means a day of entertaining and making sure everything comes together for the adults. Our advice, get a team to support you - at least one extra person can make all the difference. Delegate contacting the various parents, coordinating schedules, getting food, napkins, plates, utensils, and supplies together.
Come Up with a Theme
The day is meant to be fun, so give it a theme! Many kids struggle to fit in with their peers, sometimes even with their friends. Having a theme for your party will give everyone a chance to participate and be "part of the crowd." Make sure to bring a prop or wearable item so if someone forgets their supplies they can be in on the action instead of feeling left out.
Step up the Energy with Decorations
It's not just the people that can be in theme. Jazz up the room with decorations. At Kids Gotta Play, you can bring your decorations to take your theme to the next level. From simple streamers to more immersive decorations, you can step up the energy with some fun touches. Consider Michael's or another crafting store to gear up on supplies.
Choosing a Playscape for Your Kids' Birthday Party
Parties can be tough to manage, but so magical for the kid on their big day. Take care of the little details ahead of time so you can bring energy and fun into the party. Kids Gotta Play offers room rentals for birthdays, events, and random hangouts. We also have open play hours for the kids to blow off steam while the adults relax.