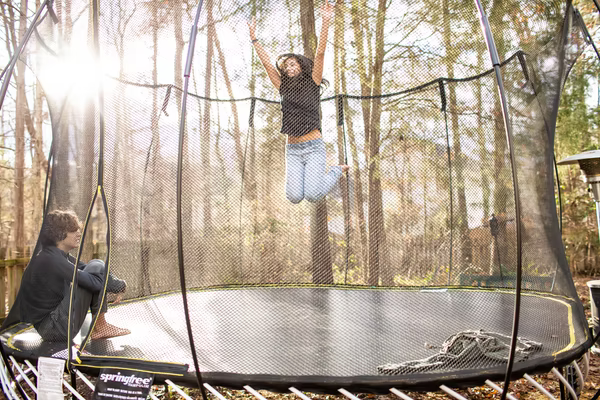 During the summer months, your trampoline probably gets a lot of use! However, during the winter period, we don't typically want to spend all of our time outdoors in the freezing cold. With that being said, below, we are going to reveal everything you need to know about maintaining your trampoline during the winter period.
Remove the Frame Pads
The first thing that you need to do is remove the frame pads, as this will stop them from getting damaged from the moisture of the snow or rain. The frame pads are very easy to remove, fold, and store inside, and they will not take up much space. If you decide that you are not going to remove the frame pads, make sure you use a weather cover to cover them to stop them from coming into contact with any moisture.
Keep the Trampoline in Place with Anchors
Next, it is a good idea to purchase trampoline anchors to keep the trampoline in place, ensuring it is connected to the ground effectively so that it is not blown around your garden once the winds start to get a bit aggressive. Anchors are especially important in locations that are particularly windy.
Clear Snow From the Jumping Pad
Another piece of advice that we have for you is to clear the snow from the jumping pad as soon as it is possible and safe to do so. If you enable snow to accumulate on the pad, the weight of it can end up damaging your trampoline. A broom should be all that you require to get rid of the snow. Do not use a snowblower or a shovel. A shovel can end up tearing or scratching the pad's surface, and a snowblower can damage it if heat comes from the blower.
Do Regular Inspections
It is also important to inspect your trampoline regularly to ensure that the cold weather is not causing unanticipated damage. If you detect the damage early on, it will be a lot easier to repair or prevent irreparable, further damage from happening. All it takes is a few minutes to inspect the trampoline and ensure there are not any problems.
Use a Weather Cover
Aside from the tips that we have mentioned so far, it is also a good idea to purchase a weather cover. A quality weather cover will protect the frame pads and the jump pad. Of course, you can remove the frame pads as mentioned above, but if you don't, a cover is a good idea. However, you do need to be careful if you decide to cover your trampoline. A cover can trap moisture on the trampoline's surface, which can result in the growth of mildew. Should you decide to use the cover, be sure to take it off on a frequent basis so that your trampoline can dry out. If the snow gathers on the top of the cover, use a broom to clear it off the cover, just as you would if the jumping bed itself had been exposed.
Fun Doesn't have to Stop When the Weather Turns Cold
The weather has already begun to turn for the year and it is, unfortunately, time to wrap up the season for your trampoline. By properly winterizing your trampoline, you can help it last for years to come. There are many other outdoor play structures available at Kids Gotta Play that work in all seasons. Give our team a call today to learn more.