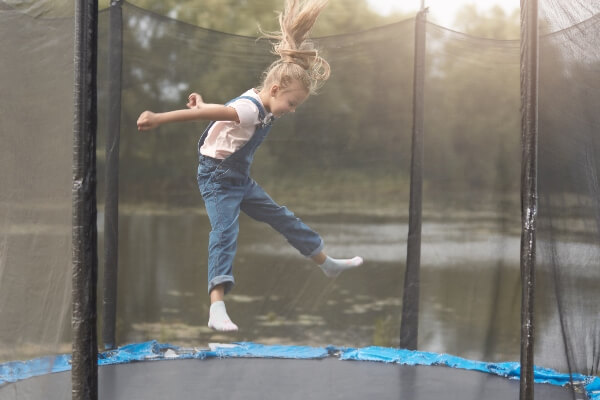 Jumping around and playing go hand in hand. Bouncing on the trampoline is great fun for kids and adults, too. Going for a jump on your own, setting up competitions, or learning new tricks are all fun ways to use a trampoline.
But watch out, trampolines aren't all fun and games. Though trampolines are fun, they also have the risk of injury. Due to this risk, we put together our top tips for how to stay safe on the trampoline. Keep reading to keep you and your kids safe while having fun.
1. Stay Away from Fences, Trees, Poles, and Any Other Obstacle
Your first step is to scout out a good spot. You aren't just trying to clear an umbrella or porch awning now - you'll have to consider the trampoline will have people bouncing up into the air. Look out for fences, trees, poles, and any other overhead obstacle that could get in the way. Keep about 10 feet or so away from any hazards.
2. Cover the Metal with Safety Pads
When you are barefoot, stepping on a rock is painful enough. Imagine jumping several feet in the air and landing on a metal spring! Bouncing on the trampoline can lead to your kids coming down on the metal frame or the springs. Reduce their risk of injury by covering the metal with safety pads. Make sure they stay in place throughout the jumping time.
3. Safety Nets Keep Everyone Injury-Free
Safety pads can help if you get near the edge, but what if you go over it? Landing directly on the dirt or cement can lead to serious injury. Safety nets are a great way to keep your kids contained and on top of the trampoline instead of bouncing out onto the yard.
4. Remove Jewelry and Everything from Your Pockets
Kids can be so forgetful. Make sure to get them in the habit of taking out any jewelry before they go for a bounce. Jewelry can be painful to land on or even get torn out. Additionally, make sure they clear their pockets so nothing gets damaged or hurts them.
5. Land in the Middle
Landing in the middle of the trampoline can help prevent injury. The closer you or your kids are to the center of the trampoline, the less likely anyone is to fall off.
Get a Trampoline for Safe Fun for the Whole Family
Trampolines are a ton of fun for you and your family to exercise without even realizing how hard you are working. There are many risks that go with a trampoline, so make sure everyone is safe. Avoid injuries with the tips above and taking it slow. For the top-quality trampolines that are right for your home and family, consider Kids Gotta Play. Our quality equipment offers your family safety and fun for years to come.