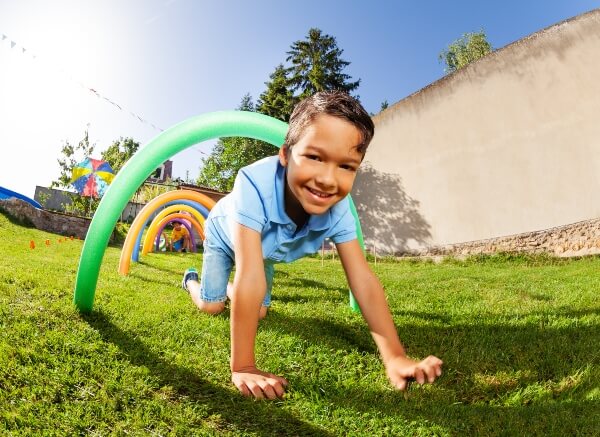 When the Covid-19 pandemic hit, everyone, including our children, was forced to stay inside. The never-ending inside time left kids glued to their iPad or laptop screens for both their education and entertainment.
Playing outdoors, competing, and having fun is a crucial time for kids for developing motor skills and improving their knowledge of puzzle-solving. Now, after more than a year of being house-bound, you can make use of your backyard space to create DYI outdoor activities that will give off the same feeling as kids' summer Olympics and drive your kids into a much-missed physical activity.
Here are four ideas you can use to create a fun competition in your own backyard that your kids will love.
1. Water Balloon Obstacle course
You can use water balloons in various ways to make a fun and summery obstacle course. Fill the balloons with water and hang them from higher points in your backyard, telling your kids to jump and hit them with their heads or sticks or bats. You can have them hung pinata style as well, making them run from one to another, trying to pop them.
Just be careful and keep in mind that water will make things slippery, so keep an eye out for where your kids are walking and running.
2. Pool Noodle Obstacle Course
Create a rainbow of pool noodles, and have your little ones crawl or crab walk under it. Sliding and running through zig zags of standing pool noodles is also a great idea. Another option is to tape together the pool noodles forming a ring, and placing them on the ground as obstacles to hop on one foot.
3. Hula Hoop Obstacle course
One of the easier and more budget-friendly obstacle courses involves hula hoops. You can either buy them or make them yourself by taping together plastic plumbing pipes.
For the obstacles, you can hang the hula hoops from tree branches or clothing lines, not too high from the ground, and have the kids jump and leap through them. Make sure that you have soft padding for where the kids would land to avoid any injuries. You can also lay the hoops on the ground, making different shapes the kids can run and jump.
4. Spy Training Obstacle course
Kids love going around running and spy training courses. The more the mystery, the more they love it.
You can start the spy training with a traditional 'guess who' game. Simply ask your to-be spy candidates to pick a famous cartoon or movie character and give out hints for the opposing team or person to guess.
Next, you can hang objects from under the tables, and have the kids crawl under them, and avoid touching the items. Strings can also come in handy. For example, to simulate a laser room, you can hang and create a maze made of lines. The goal is to have the kids move through the maze without touching the strings/lasers.
Bottom Line
When we think of summer activities, nothing beats a fun outdoor activity with friends. Having to think and solve puzzles while moving and having fun is the best type of outdoor activity any child could want. Ready to take your kids' play to the next level? Consider one of the many outdoor kids' play structures that we have to offer.