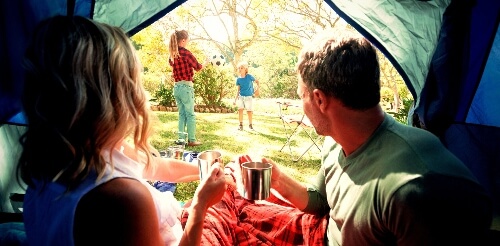 Play is important.
Seriously.
It seems strange to stress the seriousness of play, but there it is. Play is important to people of all ages, but especially for children. Most parents know that play is key for their children's development, but they aren't sure how to encourage play in the best way.
Parents help their kids most when they separate between leading and supporting their children's playtime. Self-chosen and Self-directed play is fundamental for kids. The freedom to choose creates a freedom for exploration and learning about the world, their peers, and themselves.
Let's go through how you, as a parent, can support and not lead your children's playtime.
Give Them a Safe Environment
For the youngest of children, let your body be the playground. They can tumble and crawl over you while you are there to catch them if they fall off. Your child will decide when it is ready for more adventure. Whether they move from your lap to the grass, toys in your house, or playground, they will feel secure knowing you are near to give them a safe landing.
Let Them Guide the Play with Choices
You can set up your children's play zone. Check out the structures, toys, and surroundings, so you know it will be appropriate for their strength, ability, and age. Give them touchpoints of objects they are familiar with while encouraging them to explore new options. Make sure there are some options for them, so they have some guidance, but then let them decide where their play will take them.
Invest in Their Play Time
Though we recommend you hold back from guiding their playtime, talking to them is great! Show that you care not be logging into your phone, but by being an active participant. Let them guide what you do. Talk to them, ask them questions, and become a part of their created world. These actions will validate their creativity. For example, if they have a tea party, let them tell you where to go, who the other characters are, and guide the conversation.
Self-Guided Play Leads to Problem-Solving
One of the best parts of self-guided play is that it leads to learning. Children's job is to have fun during play. During this, they will inevitably meet and need to solve problems. When you are near, you can help them navigate through these challenges or step in when necessary. Remember, encouraging them to solve their own problems will help them can more confidence in themselves and their understanding of the world.
Play Structures to Expand Your Children's Play Opportunities
We hope these options help you feel more comfortable letting your children explore their world through play. You don't have to let go to let them take the lead! One great way to let them play in a safe environment is through a home play structure from Kids Gotta Play. We know the value of kids playing here. Through our playrooms and home structures, we get to set back and let kids experience the fun of play.